One of the many important points in this video is that Obama's Executive Orders (and other President's as well) avoid a vote by The People's representatives, who can then be held accountable – that's why we elect them. Whittle notes/reiterates/calmly pounds, the money stolen by Obama from GM bond holders (my Mother included), was then handed to the Unions who made his election possible (a fact we must never forget).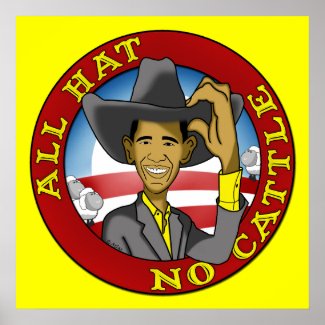 Obama All Hat No Cattle Posters
by
ObamaWatch
Browse other
Obama all no cattle Posters
1. Goat Rodeo: A chaotic situation, often one that involves several people, each with a different agenda/vision/perception of what's going on; a situation that is very difficult, despite energy and efforts, to instill any sense or order…By the time each of them has his say and policy gets to us, it's a goat rodeo.
2. Goat Rodeo: A Goat Rodeo AKA Goat Rope, is about the most polite term used by aviation people (and others in higher risk situations) to describe a scenario that requires about 100 things to go right at once if you intend to walk away from it.
3. Goat Rodeo: A situation that order cannot be brought to.
4. Goat Rodeo: An emergency situation that goes extremely bad.
5. Goat Rodeo: A situation that has all the risks and none of the rewards. In a real rodeo, cowboys risk their necks, but they get to look cool. If the cowboys rode goats, they'd have just as much risk of injury, and wouldn't look cool. Such a situation has two possible outcomes: really bad or slightly less bad. Having forseen such a situation, you're best bet is to not enter the Rodeo.
Bill Whittle Afterburner: Rule of Lawlessness
Linked at BadBlue – the best and baddest news on the planet!