Can you believe this happening in Australia? Australia! Promising safety in return for gun bans – a right stolen from the people, citizens were forced to turn in their semi-auto firearms, pump-action rifles and shotguns – 640,000 of them. There was a "buy back" plan, as if that makes it acceptable. One man says he lost 40 years of gun collecting.
Australia has found that the loss of liberty is being measured by the loss of life. Criminals still have their weapons. The weapons still legal inside a private home must be unloaded and locked up. Handguns are expected to be taken next.
Crime has not been reduced – in fact crime is up, no surprise among those with a tad of common sense:
Armed Robbery up 69%
Assaults with Guns up 28%
Gun Murders up 19%
Home Invasions up 21%
Politicians say they can't explain the rise in home invasions, because they don't have a definition for "home invasion" in Australian law. The woman in the video can explain it to them, but then she's just another unarmed citizen, not worthy of possessing the right to protect herself:
If someone set their foot inside your door, uninvited, they are invading your home and your privacy. ~ Concerned Citizen of Australia
The question is not why home invasions are up. The question is who in their freaking mind wouldn't know that private property and lives are at stake when the whole country is unarmed.
Police undermanned, and moral at record lows.
Citizens in the video send a warning to Americans:
● Don't think it can't happen to you.
● Don't trust your politicians.
● Be a member of the NRA
● Be a member at your local gun club
● Be a partner with the NRA
● Never, never, ever give up your freedoms.
● If you think you have rights, tomorrow the government can take them away from you.
● [In Australia] We don't have a chance in hell of getting our rights back.
Many thanks to Cry and Howl for the video. He has a sobering quote from Thomas Jefferson. Go read it here.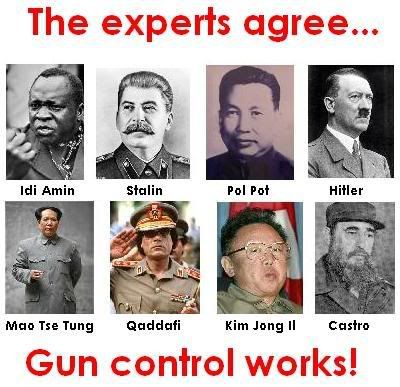 pics on Sodahead

When Guns are Banned…(video)
Linked at Pirate's Cove in The Fine 15 with a pretty pin-up you won't want to miss. Do you know about these all-American pin-ups? No? You should. See them here.