James Krapf has just been reinstated to his job as a Chester, Pennsylvania firefighter. Krapf was suspended without pay for failing to remove an American flag sticker from his locker. See video below.
Firefighter James Krapf
Krapf is an 11 year veteran of the fire department. A new department rule mandated that all stickers and statements, including union and political, be removed from the department's lockers. Mr. Krapf didn't think that would include his sticker of the American flag – which he, along with all other firefighters, also wear on their uniforms. "It's flying outside our station," Krapf said. This report says the battalion chief was "also asked to remove the sticker but he too refused."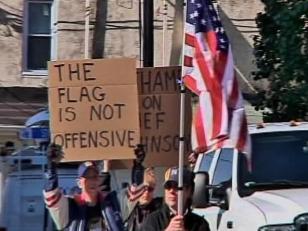 Fire Commissioner James Johnson saw it more as a control issue. They were told to remove stickers. Krapf didn't. The Union got behind Krapf and said this:
"We applaud Jim Krapf because these colors don't run," said union prez Stacy Landrum.
This whole affair apparently started after some "offensive images" were posted on lockers. Of course, offensive images should not be present in the firehouse – so remove them and suspend whomever placed them there. As Krapf said, (paraphrasing) if you are offended by the American flag, you don't belong here. Great story, I applaud you too Firefighter Krapf – and hey, Stacy Landrum, Union president, and union members – great work!
James Krapf (video)